1799-1850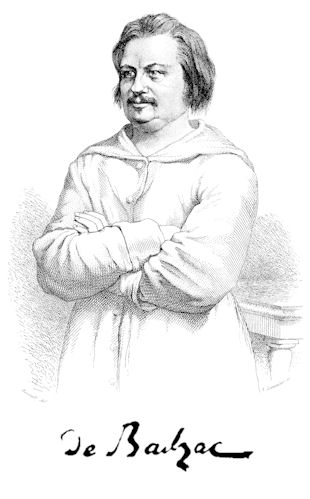 Balzac was one of France's most prolific and influential writers, and is generally considered to be one of the first and greatest of the literary realists. In his lifetime, he tried and failed at a number of professions, including that of legal clerk, printer, publisher, and as a businessman who engaged in a number of abortive ventures. These experiences, as well as numerous affairs with admiring ladies―many of them from the nobility―and an unsuccessful run for public office, provided him with a wealth of material for his writing, in which he was able to create some of the most memorable characters in French literature.
The Human Comedy
La Comédie Humaine, left unfinished at the time of Balzac's death, is a vast literary work comprising nearly one hundred short stories, novellas, and novels set in the aftermath of the Napoleonic Wars during the Bourbon Restoration and the July Monarchy. Throughout, Balzac utilizes nineteenth century French society to examine the entire spectrum of humanity with all its attendant vices, virtues, and peculiarities.
Following the authoritative French Pléiade edition in the ordering of the stories, Noumena Press plans to release Balzac's complete magnum opus in a set of forty-five matching volumes, each one newly annotated, edited, and with the original illustrations from the Furne edition of 1842.