The Human Comedy, Vol. IV:
A Second Home and Other Works
" . . . the duty of a woman, who wishes for domestic peace, compels her to bury sufferings so keen as hers at the bottom of her heart, and without a complaint."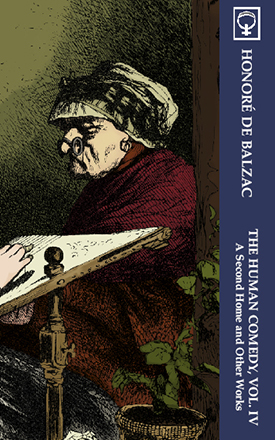 A Second Home
Day after day, a poor but beautiful young seamstress ceaselessly toils away by her window, waiting for the mysterious Monsieur Noir: a gentleman she hopes will be the answer to all her prayers . . .
Domestic Peace
A ball given at the height of Napoléon's power is the scene of a wager between army comrades to see who will be the first to dance with an unknown lady in blue . . .
Madame Firmiani
Who is Madame Firmiani? Is she a beautiful society lady? A dangerous woman, a siren? Or is she perhaps nothing more than an innocent and charming hostess who gives wonderful tea parties? The rich uncle of a young man who has come under her sway is determined to find out . . .
Also included here are The Study of a Woman, The Imaginary Mistress, and A Daughter of Eve. Taken together, the six works presented in this volume share adultery and suspicion as their primary themes.